Candy Shoppe Designs
is a
Foxy
New
Paper Crafting Challenge Blog
that is
Scheduled to Launch
on
September 1, 2009!!!
Paper Crafters of all skills and levels are invited to come here....Not only to participate in Creative Bi-Weekly Challenges....but to share their own "Eye Candy." In this case, that would be all your pretty little creations that you're so proud of making....which include, but are not limited to - Scrapbooking Layouts, Cards, ATC's, and Altered Items.
Along with every Submission and/or Comment you make (no matter how old the blog posting is) you have a chance at winning some
Sweet Blog Candy!
Become a "Sweetheart" (Follower) and leave a comment sharing 3 Random Fun Facts About You so that we can all get to know each other a little better. Also, share how you found C.S.D.
By doing so you will be entered to win 1 of 3 Sweet Blog Candies.

Leave separate comments for each additional one of these tasks you do to get extra entries for the giveaway.
-Promote C.S.D. on your own blog by rockin' out this here Link Badge....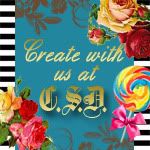 -Refer a friend. If another "Sweetheart" leaves a comment saying they found C.S.D. through you, you will get an extra entry for each person you will have referred to C.S.D. So go spread the news!!!


The 3 Lucky Blog Candy Winners will be picked and announced during the month of August.

The reveal of the Blog Candy will be posted along with the Winners Name(s), Random Fun Facts and their Blog Links. Blog Candies will be a Sweet Surprise!